I hope you will join me on July 13 at Fiction Addiction, 1175 Woods Crossing Rd. in Greenville, for a drop-in to celebrate the launch of "The Cover Story." Come any time between 5:30 and 8 PM.
 Fiction Addiction is a small independent bookstore, but we can spread out into a courtyard for wine and refreshments.
"The Cover Story" is the second in the Branigan Powers mystery series.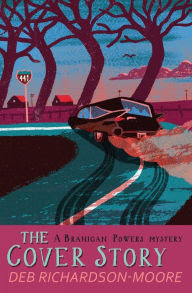 A fatal crash involving two college students  seems like an unfortunate accident. But when the surviving girl wakens, she tells a curious story of the vehicle that forced them off the road — an old-fashioned, 1950s-style hearse.
Branigan delves into the mystery that takes her to a college campus, and leads her into dangerous fraternity and sorority pledge parties.
Reunited with the homeless Malachi Martin, who is so adept at seeing what isn't there rather than what is, Branigan must uncover what is really going on at the college before other students are put in danger.
Hope to see you there!